Manipur
Manipur: Indo-Myanmar regional border committee meet held at Imphal
The Indo-Myanmar Regional Border Committee Meet is a bi-annual landmark event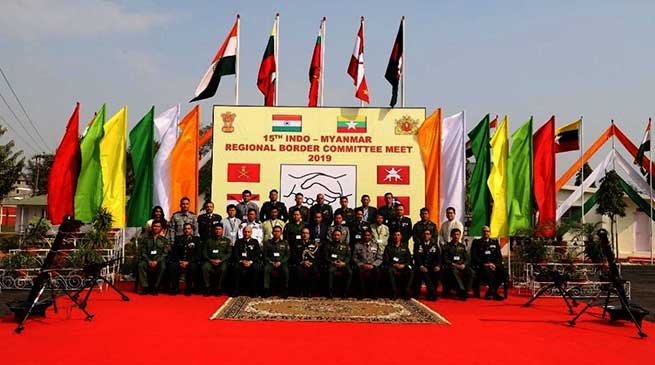 Imphal
The Bilateral 15th Indo-Myanmar Regional Border Committee Meet was held at Imphal on 10 December 2019.
The Indian delegation was headed by Lieutenant General Rajeev Sirohi, AVSM, VSM, GOC Spear Corps while the Myanmar delegation was headed by Major General Soe Tint Naing, Commander, North West Command. A 19 member delegation consisting of officials of the Myanmar Army, Police and other agencies attended the meeting.
The Indo-Myanmar Regional Border Committee Meet is a bi-annual landmark event held alternatively in Myanmar and India. The meeting addressed issues related to enhancing cooperation and coordination between the two nations on security and border management issues. This is expected to provide impetus to border trade, developing people to people contact and curb illegal activities in the region.
 The meet commenced  with welcoming the Myanmar Delegation  on 09 December 19. The meet was conducted in an extremely cordial atmosphere where the Myanmarese delegation was accorded a warm traditional Manipuri welcome. The delegation was enthralled by the amazing beauty, grace and energy of the traditional cultural performances by the local Manipuri artists.The event showcased the shared historical, ethnic, cultural and religious ties between the two nations.
After the meeting, the delegation will visit Bodh Gaya which is an important place of pilgrimage for the people of Myanmar.
The delegation will also meet Lieutenant General Anil Chauhan, UYSM, AVSM, SM, VSM GOC-in-C Eastern Command at Fort William in Kolkata.