Assam
Assam: Story of Bodo Girl Chandrika Basumatary, an inspiration for many youngsters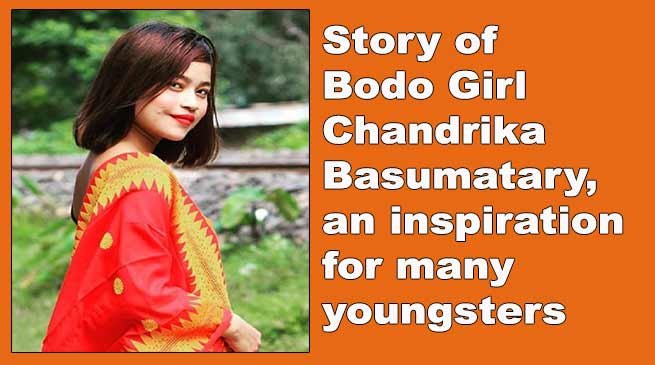 Her 'swag' is talk of the town of Udalguri and her story of meteoric rise is an inspiration for all poor families, especially girls.
---
Guwahati
The story of Chandrika Basumatary who who hails from Gouribari, a small village, nestled in a pristine and calm corner of remotely located BTAD district of Udalguri in Assam may not be too melodramatic but is definitely an inspiration for many youngsters.
More so, the narrative of this girl, her struggle and climax is resemblatic of her journey from 'Rag to Swag'.
Her story goes back to the time when people grew up accepting insurgency and violence as the norm. She belongs to a poor family and is the second child amongst the three. When she turned five, her parents got separated and that was the event which shattered her.
After her father left them, Chandrika was looked after by her grandparents. They took care of her studies as well as daily needs. Amidst all the perennial resistance in her ancestral village, Chandrika could manage to reach college for her graduation.
But her problems did not end there. After the grandfather retired, it was difficult for them to manage her studies to pursue higher education. Nonetheless, Chandrika while living under the state of oppression for more than 15 years , continued her studies and was extremely determined to look for a silver line between the dark clouds.
Chandrika started looking for an opportunity wherein she could prove her determination and be self reliant. But, due to lack of opportunity, she remained idle for quite a long time. Financial problem in her family barred the possibility for her pursuing the masters degree.
When the outlets of employment for this girl child were getting narrowed to a funnel of uncertainly, she came across a friend, who told her about the effort of a local Army unit of Red Horns Division in Udalguri wherein ICICI representative from Guwahati were being invited in Army Camp for a workshop on imparting free vocational training to youth of BPL families.
The workshop organized by Army in the remote place proved to be a boon for determined Chandrika. As part of ICICI CSR , she was selected to participate in three months training on office administration at ICICI CSR training centre at Guwahati.
The three months stay at Guwahati converted a village girl into a more confident urban girl. Chandrika excelled in the training imparted and due to perseverance, unflinching determination got a well deserved placement in a job immediately after the termination of the course. She got a placement with North East Small Finance Bank ( NESFB ) as Credit Officer, with pretty decent initial stipend per month.
Chandrika is successfully and happily working in Dhubri and staying with her grandmother. The confidence which she developed over the last five-six months has motivated her to explore job avenues beyond Northeast.
Amidst all these, Chandrika Basumatary never fails to thank Army for being conduit of her success. She said  "I admitted  that if it was not Army and ICICI, I would not have achieved my dream of being self reliant and successful". She also said that many of her friends  like Geolansa Boro, Asif Basumatary and others from the remote area also benefitted and are employed in the same company where she is working. She now intends to look for more lucrative job after gaining experience in her present job.
She also express her gratitude by saying  "I could only imagine Army as security provider earlier but role of mentor played by them for me and several other students of the district is  a true revelation of yeoman service rendered by Army towards social welfare and nation building".
Her 'swag' is talk of the town of Udalguri and her story of meteoric rise is an inspiration for all poor families, especially girls.