Manipur
Manipur: Claim of another gang rape in Manipur, Women stage protest
Following the registration of the Zero FIR, the victim underwent a medical examination.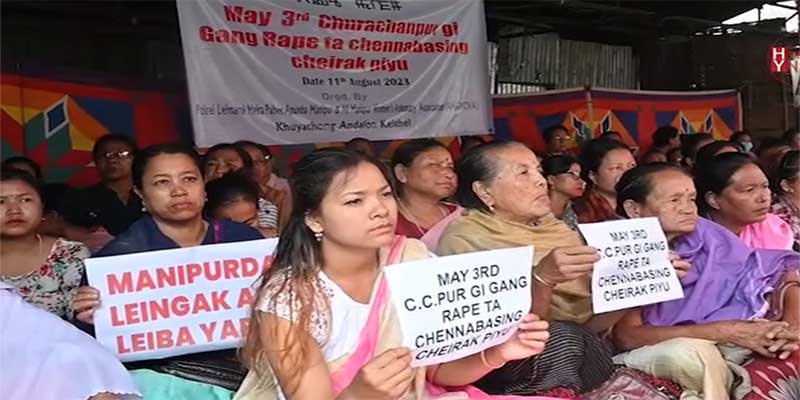 IMPHAL-  Another case of alleged gang rape has come into the fore in violence-hit Manipur. A 37 year old woman has complained to Manipur police alleging that she had been gang-raped by Kuki men, when she was trying to flee her burning house.
Bishnupur Women Police Station on August 9 registered a  "Zero FIR" under Section 154 Criminal Procedure in connection with the alleged rape of a 37-year-old Meitei woman in Churachandpur on May 3, the day when the Meitei-Kuki clash in Manipur erupted.
Manipur: After ethnic Violence demand for Bulletproof Jacket increased in Manipur
The woman has claimed that she was gang-raped by a group of five to six Kuki miscreants. The incident occurred around 6:30 pm while she and others were attempting to escape from their homes in Churachandpur. The victim also stated in the statement recorded in the FIR that she did not disclose the incident earlier to save her and her family's honor and avoid social boycott.
Following the registration of the Zero FIR, the victim underwent a medical examination. The woman chose to withhold her identity along with that of her husband.
Manipur police lodge FIR against Assam Rifles
The FIR mentions a name with the words "name changed" at the bottom. The case, which has since been transferred to Churachandpur women police station for jurisdictional reasons, adds to the mountain of FIRs pertaining to killings, arson, clashes and mob crimes since Manipur erupted in violence on May 3.
Meanwhile,  Thousands of women staged a protest in five valley districts of Manipur on Friday against the alleged gang rape of a 37-year-old woman. The dharna was organized by Mira Pabis Sag, a group of Meitei. The dharna was organized in Imphal East, Imphal West, Thoubal, Bishnupur and Kakching districts.